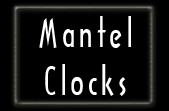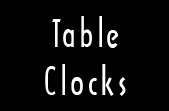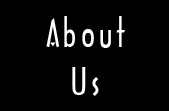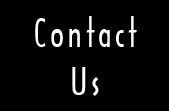 With the spirit of Steve's mother, it sits with an air of pride and simplistic beauty. Made from a stained mahogany base and textured poplar body. The face is embellished with a fury of dichroic glass beads, encircled by an antique gold-finished, etched ring. Gold dimensional stripes adorn the ochre-colored hands. A rotating star against the glistening night sky sets the mood for reflecting. (NOTE: Sale pending on model shown in photo).

With the spirit of Steve's sister, Dena, radiating from its core, Dena Joy was an exercise in unrestricted freedom to create. It's more sculpture than clock. The wood has a finish that is real rust on iron. A wavy puzzle piece joins the two pieces of wood. The brass dial has a real cool metallic lace-look texture with hints of gold and butterfly wing green. That big circle on the face is actually a bob from a pendulum. Steel and brass hour markers encircle the face. Uniquely shaped hands are adorned with real cork.

Most of the clocks in this section are available and ready to ship. Others can be special-ordered and will be noted as such. We do our best to replicate clocks shown in the photos when filling special orders, but remember, being individually handcrafted, each one is slightly different from the original. Please call us at 510.932.6085 or email us at steve@STEVENartclocks.com to confirm availability.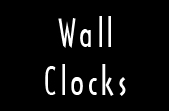 Clocks in this section have already been purchased. Because each clock contains unique parts and sentimental objects from individual customers, exact duplicates may not be possible. Please contact us to discuss possible variations. We would be happy to hear from you.

Please call 510.932.6085 or email us at steve@STEVENartclocks.com to order.

Steve@STEVEN art Clocks.com